Annual Amish Country Bike Tour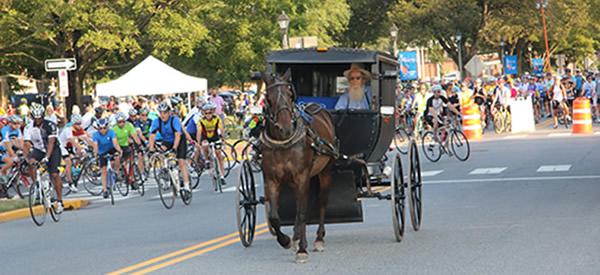 The Amish Country Bike Tour, will be Saturday, September 8, 2018.
New! This year's tour starts and stops at the Delaware Agricultural Museum & Village located on 866 N DuPont Hwy in Dover.
The bike tour benefits, Kent County Tourism, Bike Delaware and various non-profits throughout Kent County. The Amish Country Bike Tour is suited for all ages and abilities, includes 16, 25, 50, 63 and 100-mile loops through the flatlands of Delaware's Amish farmlands. Rest stops include the famous "Pie Stop" at the Amish Schoolhouse, where members of the Amish community and other volunteers serve locally-baked pies and cookies. Several additional food stops will be included, featuring healthy snacks, sandwiches and beverages. Following the tour, cyclists will be treated to a catered picnic!
Website: http://amishcountrybiketour.com/