Utility / Tax Payments
Utility Bill Payment
        NO FEE                      
 City of Dover  Utility Bills and Property Tax  payments - there is no fee to use our online payment option for: 
VISA/MASTER CREDIT CARD
DISCOVER 
DEBIT CARD
e-Check
  Fees and  other restrictions may apply  contact Customer Services for specific details:  
 Prepaid Cards and Third Party Lending cards are not accepted. 

 

A f

ee will be required for 

all returned payments.

 

 
 

A fee will apply to all return credit/debit cards and subject to disconnection. 

 

   Future use of the online option will be denied as the City warrant necessary

. 

 
 *** ATTENTION *** CITY OF DOVER UTILITY CUSTOMERS - ALL  DELINQUENT BALANCES  MUST BE PAID IN FULL TO PREVENT DISCONNECTION OF UTILITY SERVICE. 
How To Pay...
| | |
| --- | --- |
|   Mail   |   City of Dover Utility, PO Box 15040, Wilmington DE 19886-5040   |
| Drive-Up Window | 5 E Reed St, Dover DE 19901 (Monday - Friday, 8:30 am-5:00 pm Business hours) |
| Drop-Box | 5 E Reed St Dover DE 19901 (After hour payment box by drive-up and Read St. side of building. |
Tax Payment
 The City's tax rate is determined each year by the City Council. Tax bills are mailed the beginning in July and are due by July 31 of each year.  A 1  1/2  percent per month penalty is added to all unpaid tax bills.  
 Call  302-736-7022 Tax Assessor's Office   
for further details 
 City of Dover Property Tax Rate  Effective 7/1/2021 - .415 cents per 100
Example: Total Assessment Value $140,300.00  X  Tax Rate

 

 .00415

  = Ta

x 

Due  $582.25

 
How To Look Up & Pay Tax Bills...

 

 
| | |
| --- | --- |
| Mail | City of Dover Taxes, PO Box 15558, Wilmington DE 19886-5558 |
| Cashier | 5 E Reed St Dover DE 19901 Have your tax statement available in order to avoid delays.  |
**Payments made after July 31st are posted as received not postmark. If received after the end of the month additional fees will apply to unpaid tax bills.**   
Online payments can be made here:  https://selfservice.dover.de.us/css/citizens/RealEstate/Default.aspx?mode=new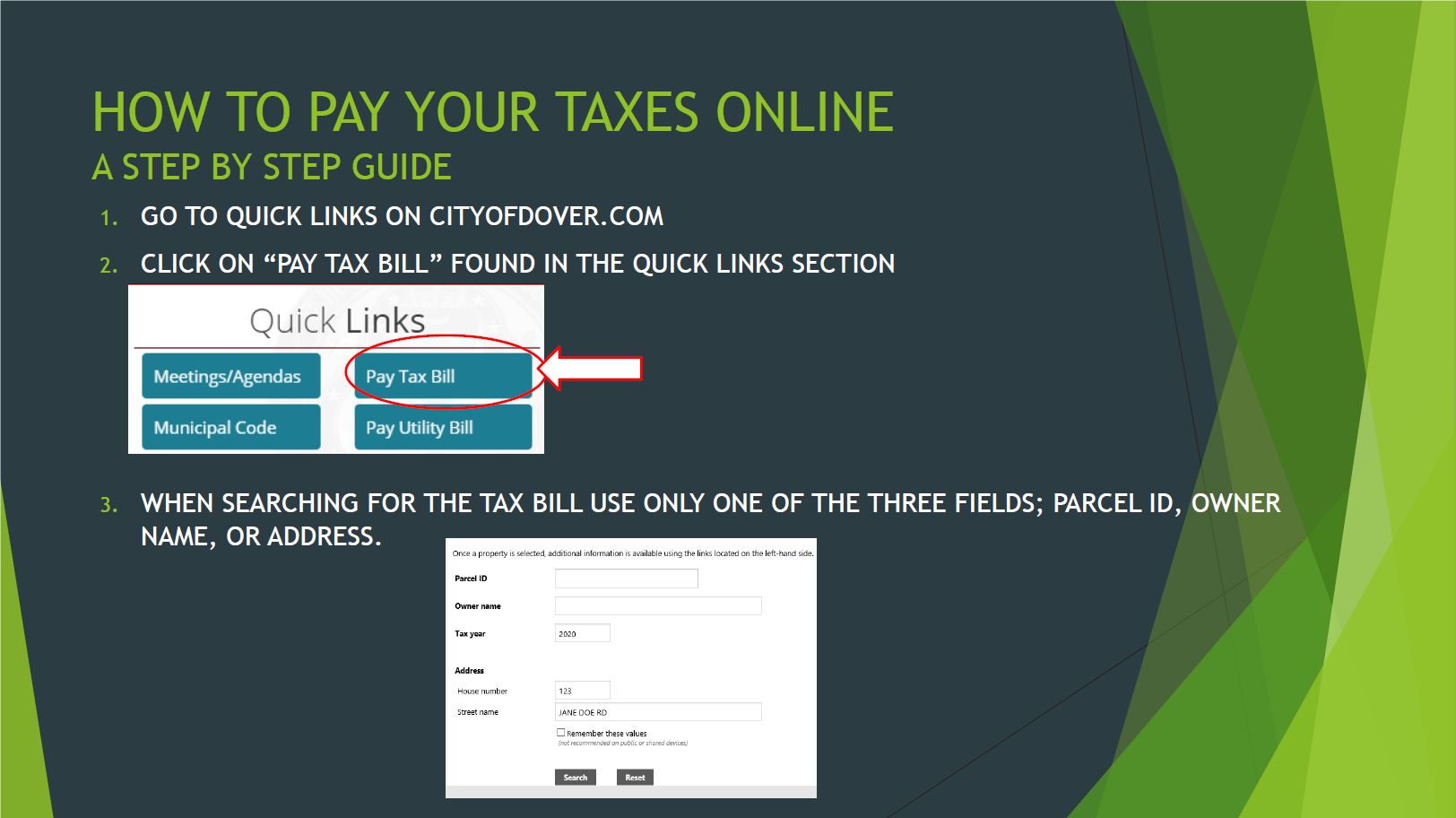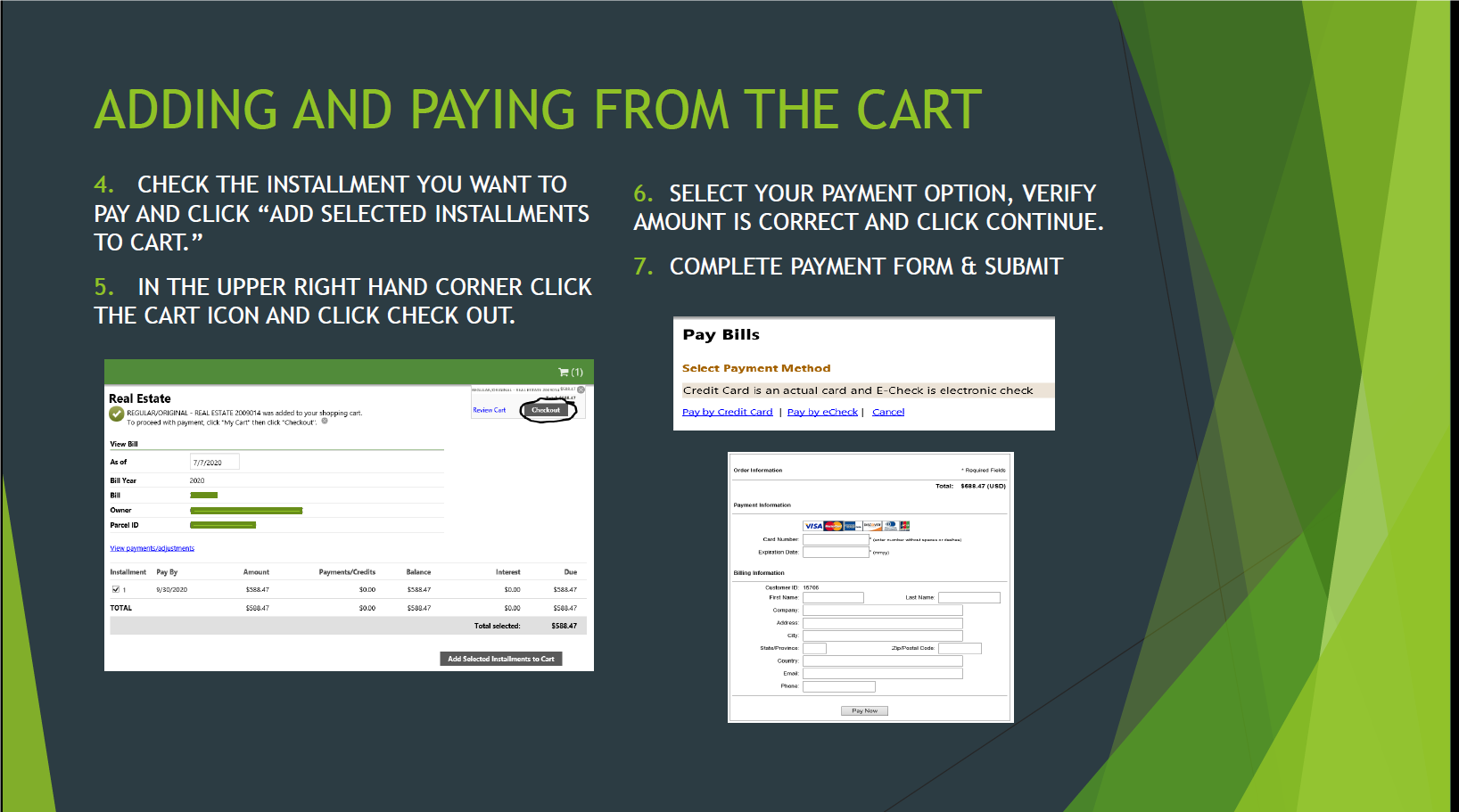 ---
    DISCLAIMER:     The information is prepared for you as a general guide to our utility policy. Please understand that it does not cover all circumstances and that it might not include specific details on a subject which interests you. If you have questions that are not covered here or want information on any subject, please give us a call. We are here to serve you!