Customer Services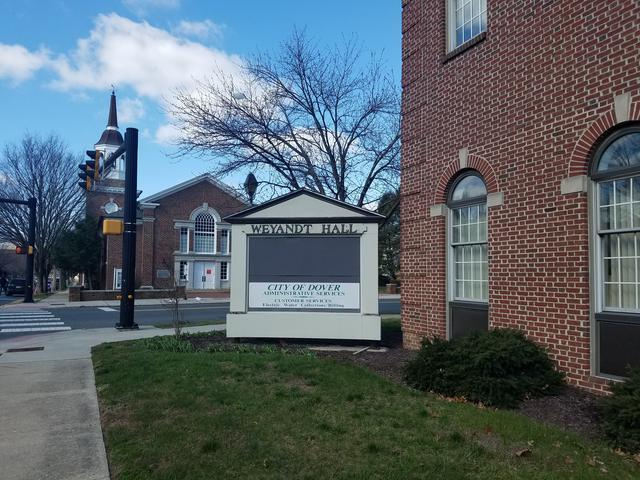 Mailing Address :
City of Dover- Customer Services
P.O. Box 475
Dover, DE 19903-0475
E-mail: ebilling@dover.de.us
Physical Address:
5 E Reed St, Dover DE 19901 Weyandt Hall
Office Hours:
Monday - Friday (8:30AM - 5:00PM) *NEW SERVICE SIGN UPS & TRANSFERS NEED TO BE HERE BEFORE 4:30PM*
Tele# (302) 736-7035 / Fax# (302) 736-7193
Customer Service will be closed in observance of the following holidays:
New Year's Day
Martin Luther King Jr's Birthday
President's Day
Good Friday
Memorial Day
4th of July
Labor Day
Veteran's Day
Thanksgiving Day
Day after Thanksgiving
Christmas
Customer Service Director : Patricia Marney
Office Phone (302) 736-7058
"To provide quality public service to our diverse group of customers with professionalism, respect, & integrity" – Customer Service Mission Statement

IF YOU ARE EXPERIENCING PROBLEMS WITH POWER OUTAGES, DOWNED POLES OR LINES, OR STREET LIGHTS OUT PLEASE CALL (302) 736-7086.
---
****Charitable Assistance Agencies****
View links to payments, collection, rates, metering, and other resources:
---
---
---
---
To Make payment on a collection account refer to SIMM Associates:
Website: www.simmassociates.com

SIMM Associates will accept a payment through a variety of methods for customer convenience. We accept payments via online checks, credit cards, Money Gram and Western Union.

Telephone payments can be made through call center at (866) 572-9376 or mailed to SIMM Associates, Inc. P.O. Box 7526 Newark, DE 19714
---
---
---
---
DISCLAIMER: The information is prepared for you as a general guide to our utility policy. Please understand that it does not cover all circumstances and that it might not include specific details on a subject which interests you. If you have questions that are not covered here or want information on any subject, please give us a call. We are here to serve you!